two additional schools in the pipeline; $4B spent to enhance infrastructure at Zeelugt, Tuschen over the past three years.
SINCE being elected to office in 2020, the People's Progressive Party/Civic (PPP/C) Government has spent almost $4 billion to upgrade and install infrastructure in the communities of Zeelugt and Tuschen, Region Three (Essequibo Islands-West Demerara).
This was according to President, Dr. Irfaan Ali, during his address at the commissioning of a $200 million school, the Victoria Lily Primary School at Tuschen, on Tuesday.
"So, if you look at Zeelugt, and Tuschen as combined areas, since we assumed office in the last three years, we have spent almost $4 billion in infrastructural upgrades in these two communities," he said.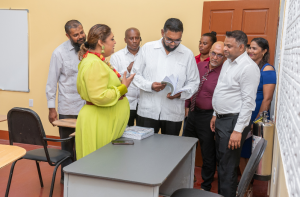 President, Dr. Irfaan Ali; Minister of Education, Priya Manickchand; Minister within the Ministry of Public Works, Deodat Indar, and others on a tour of the newly commissioned $200 million Victoria Lily Primary School, Tuschen (Delano Williams photo)
Further, in addition to the newly commissioned primary school which will boost education delivery in the region, President Ali announced plans to construct two additional schools, one each at Crane and Nismes.
He said that the Ministry of Education completed an infrastructural analysis based on the population and students, giving them a clear understanding of what additional infrastructure is needed based on the demand and the education system.
"We know now that we have to invest in the short term in 10 new facilities across the country, but in this region, we're going to build two additional facilities, hopefully before the end of the year or to be ready for the next term which is in January," he said.
President Ali said that the school in Crane will be about 30,000 square foot and will be able to hold some 1,000 learners, while the new school at Nismes will be about 12,000 square feet and capable of holding some 600 learners.Apart from this, the Head of State said that a recreation park is being built to support Tuschen and Zeelugt; this will contribute to the holistic development of children in the region.
Additionally, the school commissioned on Tuesday, is one of the first schools that will begin teaching Spanish from Grades One to Five.
President Ali said that there are now more than 1,000 re-migrant or migrant children who speak Spanish, being enrolled in the school system in Region Three.
"So, in this region, particularly, we need to improvise in our education system in a way in which we ensure that the children, many of whom are re migrants and migrants, are not locked out of the education system because of language barriers and deficiency," he said.
The Head of State related that because the region is now heavily and highly influenced by the influx of the migrant population and the re-immigration of Guyanese back into the country, the integration of Spanish is important.
Minister of Education, Priya Manickchand, said that the school is timely for many reasons, with one particular factor being the fact that the old Tuschen Primary School was affected by severe overcrowding.
"So much so that your children were on shifts, which means that your children were not getting education like the rest of the country and that immediately put them at a disadvantage," she said.
Manickchand said that President Ali, upon hearing this, said there cannot be children not going to primary school, especially given the issue of having Region Three be the home for over 750 new children in the system from migrant families.
The Victoria Lily Primary School is 60 feet by 150 feet long and is 9,000 square feet with 12 classrooms, which can hold approximately 330 pupils.
The school comprises an auditorium, a kitchenette, an air-conditioned (AC) staff room, a principal's office, a sick bay, four male washrooms and five female washrooms.
There is also a wash room for Special Education Needs (SEN) learners and a ramp for wheelchair access.
Each classroom has two ceiling fans, lighting fixtures, smoke detectors and fire extinguishers, there are also outlets for smart devices and each classroom has been outfitted with WIFI routers.
Source:https://guyanachronicle.com/